This short-form, data-led article uses cord data on the ethnicity, gender and salary expectations of engineers to identify the pay gaps that exist between different gender and ethnic groups in the tech industry.
The original can be read here. More articles in the same series can be seen here.
---
Contextual data
White females have the lowest average salaries of all groups of engineers, at £62,019. The average female from a minority ethnic background earns £67,925, and white male engineers earn, on average, £72,573. Minority male engineers are the highest earning group, with an average salary of £77,576 – 25.08% greater than that of the average white female.
Below, the data is explored by function, job title (among developers), seniority and years' experience, in order to compare the difference between the salaries of engineers of comparable ability and experience from different gender and ethnic backgrounds.
Unless clarified by context, "engineer" is used to refer to any professional who has created a profile for job-seeking purposes on cord. Engineers are carefully selected to be able to create profiles on cord. They require professional experience in Tech and Product-related roles, and are therefore specifically represent people working in these roles rather than, as many other statistics sometimes cover, the "Technology industry" as a whole. It is therefore felt that the data discussed here gives a unique insight into gendered and ethnic pay differentials among people working in Tech and Product-specific roles.
Salaries by function

Minority males are the highest earners in each function, while white females are the lowest earners in every function. Minority females earn more than white males in Development, but white males earn more than minority females in Infrastructure, Data and Product & Design.
The disparity between highest and lowest earners is greatest in Development, where males from ethnic minority backgrounds earn 29.99% more, on average, than white females.
Developer salaries by job title

Males from ethnic minority backgrounds earn more than other groups in every job title within Development, and again, white females earn the least.
The disparity is greatest in back end, where males from ethnic minority backgrounds earn 28.57% more, on average, than white females.
Salaries by experience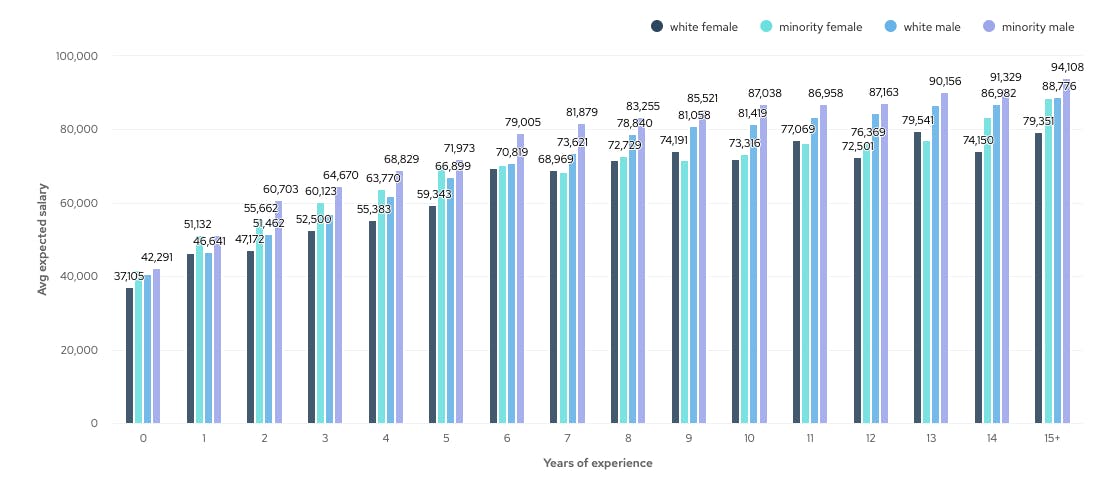 Males from minority backgrounds earn more, on average, than other groups at every level of experience.
Men from ethnic minority backgrounds with 2 years' experience earn more, on average, than white women with 5 years' experience.
Key Insights
Across all tech and product functions, seniority and experience levels, men from minority backgrounds are the highest earners, while white women are the lowest earners
Men from ethnic minority backgrounds earn, on average, 25% more than white women
The average white female needs 6 years' experience to out-earn the average man from a minority background with 2 years' experience
Data Disclaimer
Data refers to 54,082 engineers across all locations (primarily London, Europe/Remote, and New York) on cord.
Gender is determined by one of two methods. All engineers are given the opportunity to self-ID. Roughly one quarter of engineers do so. The remainder have been assigned a gender (male or female) by a third-party predictive API (https://namsor.app/) based on their name. The API makes mistakes, but is accurate in 90-95% of cases. The same API is used to predict the ethnic background of all engineers.
All salary data is based on engineers' expected salaries on cord, which is used as a proxy for actual salary.